This has been a project of mine for the past few years. It has gone through several evolutions. It has been a lot of fun and I hope it inspires a future generation of firefighters.
I call it Lil' Squirt It is a 1989 Japanese Kei four wheel drive truck it is 55 inch wide 68 inchs tall and 12 feet long bumper to bumper. I built to help kids understand firetrucks. Due to its small size it keeps thier attention and doesnt overhelm them like todays rigs do. It is a fully operational Quint it has a 80 gllon water tank, a 2 stage 7 hp wildland pump, hose reel, a hose bed with a 100 ft of 11/2" preconect, Small pickhead axe, a old SCBA and gear,a ladder, 11/2" hard sleave. Just the basics anything more and the kids seam to get lost in the amount equipment and size. The trailer is set up with a tarp under it to recycle most of the water. The truck drafts out of the pond and pumps it out on the fire through a ladder pipe and one to two handlines. Really small envents like a daycare i just run off tank water till its gone.
I use it in 2 modes I take to carnivals and fairs and set it up and kids play Fireman and put out the fire (lights and flame balls in the windows). The second is I use as a Public Relations piece. I make it avalible for open houses, saftey days, public education, and parades.
I would Like to thank my fiance' Debbie for her understanding and support. Carnivals are a week long here and take up all my evening time. Open houses and other events are single day and dont take me away. I also would like to thank my good freind Robert who has helped so much from giveing me a place to store the truck and trailer to painting the truck and helping out.
I love the look in kids eyes whe they are "putting out the fire" I have a few that follow me from event to event. People love to learn about it and find out what it is. I have talked to the Firehouse Expo in Baltimore Staff and hopefully it will be there next year for Family day.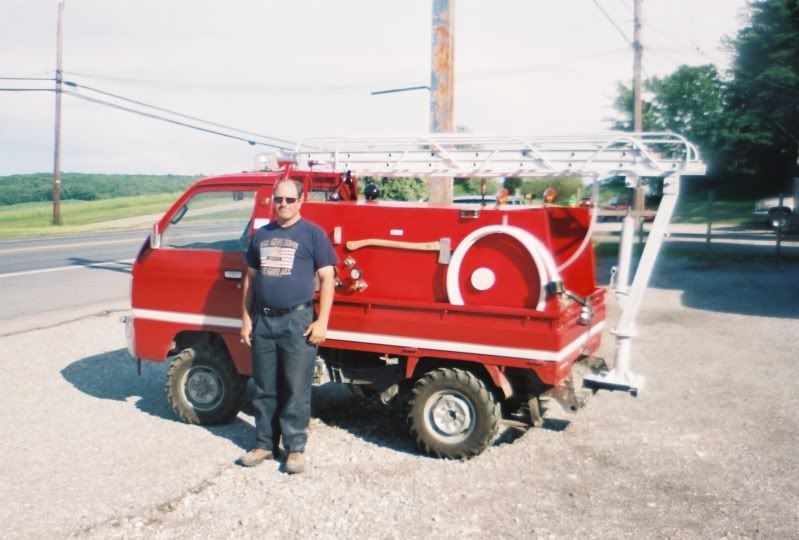 Most of these pictures are from carnivals at some special events I dont charge and it is free to play.